Tulia High School

40th Reunion Photos
REUNION ATTENDEES
Listed below are the individuals who attended the Saturday night dinner & festivities at The Conestoga Restaurant in Tulia: (scroll down below the list to access class photo & slideshow links)
BICE, Johnny
(& wife, Barbara)
BOOKOUT
(Henthorn), Donna
(& husband, Mike)
BREITLING (Carlisle), Kathy
(& husband, Buttons)
CHANDLER (Freeman), Kathie
(& husband, Cliff)
CHAPA (Hernandez), Emma
(& husband, Jose)
CLARK (Mauldin), Beverley
CLARK (Baker), Freda
(& husband)
COOPER (Gray), Delia
(& friend, Jay)
COX (Johnson), Debbie
(& husband, Danny)
DELGADO (Moreno), Mary Lou
(& husband, Dan)
DONNELL (Kimble), Katrina
DUTTON, Alan
(& wife, Terry)
FINCK, Jim
(& wife, Karen)
FORD, Rodney
(& wife, Terry)
FOX (McAuley) Sheila
(& husband, Charlie)
GARZA, Rene
(& girlfriend, Maria)
GLEASON, Michael
(& girlfriend, Bonnie)
HAIR (Bentz), Sandi
(& husband, Jeff)
HALL, Perry
(& wife, Vicki)
HICKMAN (Briley), Jo
(& husband Jeff)
HICKMAN, Tom
(& wife, Mary)
JORDAN, Randy
(& wife, Debbie)
KIKER, Jimmy
(& wife, Vicki; & sister, Vicki)
KREIG (Boyd), Suzette
(& husband, John)
MILAM, J.K.
(& wife, Bonnie)
MINCHEW (Sparks), Jan
(& husband, Sparky)
NORTHCUTT (Powell) Roxanne
(& husband, Steve)
O'DANIEL, Dale
(& wife, Charlotte)
POPE, Randy
(& wife, Mary Jo)
RAYMOND, Steve
(& wife, Brenda)
ROBERTS (Franklin), Cornelia
ROBERTS (Henard), Deltah
(& husband, Andy)
ROLAND (Jarvis), Gay
(& husband, Chip)
ROSSI (Gerber), Denise
(& husband, Carroll)
SHARP (Weehunt), Rhonda
SINGER, Lloyd
STEPHENS, Randy (& wife, Kathy)
THOMAS (Jorgensen), Kay
TREADWAY, Lonnie
TUCKER, Daryl (& wife, Becky)
WARD (Hanna), Cindi
WELLS, Larry
WESLEY, Mike (& wife, Mary)
WHITEHEAD (Cole), Kathy
We also had approximately 42 classmates who rode the parade float Saturday morning. This number included Maureen POHLMEIER (Self), Suzy GUZMAN, and Odell MOFFETT who were unable to attend the dinner. That brings our total to 61 classmates who participated in a reunion event!
CLASS PHOTO - 40TH Reunion 2010
The Conestoga Restaurant - Tulia, Texas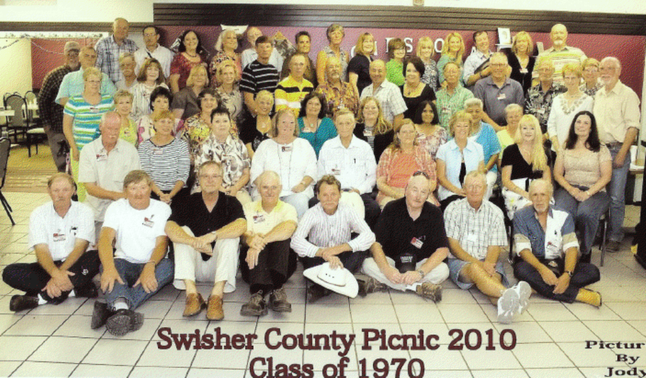 (Left to Right)
Row 1: Daryl Tucker, Alan Dutton, Randy Jordan, Tom Hickman, Larry Wells, Lonnie Treadway, Dale O'Daniel, Ralph Ellerd
Row 2: Rodney Ford, Gay Roland Jarvis, Debbie McCoy Johnson, Jan Minchew Sparks, Randy Pope, Kay Thomas Jorgensen, Roxanne Northcutt Powell, Cindi Ward Hanna, Suzette Kreig Boyd
Row 3: Kathie Chandler Freeman, Donna Bookout Henthorn, Jo Hickman Briley, Sandi Hair Bentz, Delia Cooper Gray, Freda Clark Baker, Emma Chapa Hernandez, Mary Lou Delgado Moreno, Cornelia Roberts Franklin
Row 4 (standing): Mike Wesley, Sandy DuBois Cosby, Danny Glasscock, Vicki Jennings Hayes, Sheila Fox McAuley, Kathy Whitehead Cole, Mike Gleason, Perry Hall, Jimmy Kiker, Rene Garza, Dallana Carlile Loper, J.K. Milam, Steve Raymond, Johnny Bice, Susie Blount Bradley, John Keim, Mark Miller
Row 5: Michael Cosby, Gary Don Carlisle, Lloyd Singer, Kay Lee Culwell, Connie Lee Ash, Jim Finck, Debbie Cox Johnson, Kathy Breitling Carlisle, Rhonda Sharp Weehunt, Denise Rossi Gerber, Beverley Clark Mauldin, Deltah Roberts Henard, Randy Stephens, Katrina Donnell Kimble, Bryan Finck
TO ACCESS A SLIDE SHOW OF REUNION PHOTOS, CLICK ON THE LINK BELOW:
http://smilebox.com/playBlog/4d5467784d5451334e7a673d0d0a&blogview=true
TO ACCESS PICTURES OF OUR PARADE FLOAT (COMPLIMENTS OF CONNIE LEE ASH), CLICK ON THE LINK BELOW:
http://secure.smilebox.com/ecom/openTheBox?sendevent=4d5467784d4445324e6a42384d5441324d7a49794d546b3d0d0a&sb=1
JAN (MINCHEW) SPARKS' SLIDESHOW (INCLUDES REUNION PHOTOS & SHOTS OF HER ARTWORK - WHAT TALENT!)
http://smilebox.com/play/4d5467784f5455794d44633d0d0a&sb=1
CONNIE (LEE) ASH'S SLIDESHOW FROM 07/16/10.
http://secure.smilebox.com/ecom/openTheBox?sendevent=4d5467314d544d354e544e384d7a6b344d44677a4d54413d0d0a&sb=1
Cover for reunion edition of a CD with hits from 1970 (given as a souvenir to each classmate in attendance): (song list was printed on a self adhesive label and pasted on closing flap)